Application essentials for a student – what you can't do without in college
Being a student is one of the most interesting experiences in anyone's life. You could say young, although it does not have to be so obvious. Youth – isn't that actually a relative term? Students, as a specific social group, have their own needs, which the producers of applications try to satisfy as much as possible. Student life with a phone in your hand can be much easier if you have either of these!
Having in mind the choice of individual applications, let's consider what needs they must meet in order to be considered useful, or usable. We may be stereotyping here, but why not? Surely, every person, not only the representative of the żaks, would like to eat well and cheaply.
But I'm hungry..
Food continues to get more expensive due to inflation on store shelves and restaurant tables, as long as they are open. We can approach the subject of food in two ways – by thinking about saving on delivery or not wasting it. As for food delivery, it is worth taking a look at Bolt Food, Wolt, Glovo and Uber Eats. When it comes to saving food, two apps are ideal: Foods and Too Good To Go. And if you want to eat like a king and at half price, you can choose the Finebite app!
TOO GOOD TO GO
"Every year ⅓ of the food produced ends up in landfills. In Too Good To Go we want to fight against food waste by giving users a simple tool to buy tasty meals that would otherwise end up in the trash." – we read in the description of the application in the Google Play store.
"More than 16 million meals have already been saved thanks to Too Good To Go! If you love food, care about the environment, and in addition like to eat at an attractive price – download the app and save food right now." – add the creators of the product.
Users are very happy with the performance of the app and the very idea it represents.
"The application is great, but I do not like the form of payment. I don't like giving out my card details, so if there was a debit option I would definitely use it. :)" – writes one user.
"Overall a cool apk with me mainly BP the rest redeemed in a second.. 4 stars, due to dividing into better and worse by using hidden places and special codes. It makes a person feel inferior." – we read in another comment, by a less satisfied user.
Mr. Łukasz comments in this way: "Super idea and execution, while rescuing food you can explore interesting places with really delicious food. The only thing I miss is the exclusion in the map search of places defined by us (by name preferably)."
You can download the application in Google Play, as well as in App Store.
FOODSI
Foodsi is an app that serves two purposes, similar to those of TOO GOOD TO GO. They are saving money, but mainly it is not wasting food. So there is nothing to expect high quality products for three pennies, which users are rather aware of. Or at least one could assume so, if not for the statements on discussion forums, which for the sake of culture of speech will not be quoted here.
Foodsi is a Polish application and currently it works only in Poland. It builds on the locality of gastronomy, with limited access to chain restaurants, which some may not like, while others will be thrilled. It is different with Too Good to Go, which has the opposite situation, so what who likes.
As for discounts, they can have different percentage caps, but the target is half of a given product value.
The application was rated by almost 300 times less people than Too Good to Go and the rating itself is also slightly lower, although it still represents a high level by the standards of other applications – snapchat has 4.2 stars, and facebook has as many as… 2.5 stars.
You can download the application in Google Play and also in App Store.
FINEBITE
Here, on the other hand, we are dealing with an app that is something like a discount app. In this case we can demand a bit more, because the idea of its creators was to give the opportunity to explore new tastes and places for half the price. Great promotion for restaurants and an interesting culinary journey for users.
The application has very high scores and fulfils its tasks in one hundred percent, unless it does not work, but these are rather individual cases. Using the application is very simple. All you need to do is to book a seat – with reservation fee, as befits a restaurant – and meet the conditions from the restaurant's website. Finebite also works with takeaway restaurants. And sometimes there are even 50 percent discounts for dishes that you declare to pick up in person.
You can download the application in Google Play, as well as in App Store.
Ok, we're done? Well, it's time for class!
It's no surprise that most students are people who have not lived in a particular location since birth. Academic centers are within large cities, where even native residents may have trouble embracing the location. The public transport itself can be as helpful as it is problematic. The Jakdojade application will help us understand the application.pl and mobileMPK.
JAKDOJADE.en
Very easy to use and intuitive application that allows us to plan the movement from point A to point B. It is also able to provide us with such functionalities as choosing the destination or starting point, the ability to check the route of each bus, streetcar or train line.
Recently it has even introduced a function of buying and deleting tickets using Blik or an application wallet, which can be recharged using Blik application or Google Pay.
Jakdojade will definitely work in places like Krakow, Warsaw, Poznan, Wroclaw, Torun or Lublin. It's worth mentioning, that we can plan the journey precisely, because the program shows in real time in what time a specific vehicle will pick up and how long it will take to reach the destination.
The app also counts walking distances that are not possible or cost-effective to cover by public transportation – it has maps in its arsenal that show us possible routes.
In the settings you can set which lines or means of transport you want to avoid, whether they should be express or regular, zone, whether the vehicles should be low-floor, whether you want to avoid changes during your journey, and it even allows you to choose your preferred lines of travel.
You can download the application in Google Play, as well as in App Store.
mobileMPK
MMPK is an application with public transport timetables for the largest Polish cities, which currently have more than 50. It works in cities such as: Białystok, Bielsko-Biała, Boleslawiec, Bydgoszcz, Bytom, Chelm, Chrzanów, Częstochowa, Dąbrowa Górnicza, Elbląg, Gdańsk, Gdynia, Gliwice, Głogów, Gniezno, GOP, Gorzów, Grudziądz, Jaworzno, Katowice, Kielce, Konin, Kraków, Lubin, Lublin, Łódź, Malbork, Minsk Mazowiecki, Mrągowo, Nord Express, Olkusz, Olsztyn, Opole, Piła, Piotrków, Płock, Poznań, Racibórz, Radom, Ruda Śląska, Rybnik, Rzeszów, Siedlce, Sopot, Sosnowiec, Szczecin, Tarnów, Toruń, Tricity, Tychy, Warsaw, Wejherowo, Wrocław, Zabrze.
What is important, the application can work offline, i.e. it does not require constant internet access, which is not the case with Jakdojade.en. Its most important functionalities, listed in Google Play, are:
* connection search in offline and online mode
* full offline and online timetables for buses and streetcars
* real-time delays and vehicle position (in selected cities)
* Favorite stops, lines, connections
* check online availability of city bikes
* offline and online map
* add your own line schedule
* create and edit your own calls on your phone.
Mobile timetable is also rated well by users, although to Jakdojade.en is still a little lacking, in Google Play min. More than 60 thousand more ratings to catch up with the rival.
Application you can download unfortunately only in Google Play store.
Phone tracking
We ate well, we got off, we are in front of the university building. We're a little nervous about the new situation and wonder who we'll meet on our way, but soon the nervousness turns to trepidation. We discover that our phone is not there. It fell out of my pocket just when we weren't using it, so about two minutes.
What to do?! What to do?! – we repeat in our minds. A stranger approaches us, knowing the misguided sight. I'll help you – he says the magic words while firing up a certain wonderful application. Phone found! There is no end to the joy! Hugging a new friend. Hi, we are going to study together, I am Marta! – you can hear, thinking about the sessions you have spent together and the events that are already waiting for you.
Google Find My Device
Phones with the bitten apple logo have a built-in feature called: Find My Iphone. Find My Device is the most universal program for Android phones. This compatibility is due to who is the publisher of the program, and it is our best uncle – Google. In addition to phones it can find our tablets and some smartwatches.

The application also gets high marks among its audience. The user can use it to erase data from a lost phone, start its ringtone, even in silent mode, and display a specific message on a blank screen. There is one catch – in order for it to work the phone must have access to the Internet and have GPS turned on.
You can download the application in Google Play.
I am new in town, looking for friends!
TINDER
Dating application, probably the most popular in the so called. mainstream. Not without a reason, after all, in the media there have already been many talks about marriages born thanks to this application. And there's also a discussion about how people treat each other under its influence.
After all, the app has achieved such popularity for a reason. It is simple to use, very intuitive and shows people in the vicinity with whom we can make friends. Yes, not only romantic and not necessarily erotic. You'll find friends there too!
Here already the application has a little less ratings than the previously mentioned, but this is understandable due to its specificity and frequent hardware problems.
You can download the application in Google Play, as well as in the App Store.
Learning, education, organization, activation
I think we all managed to forget about the clue of studying, which is learning. This one can be tedious and cumbersome at university, so it is worth making it a bit easier for yourself.
In the opinion of the editors, the best way to organize not only learning but also work is a package of services signed with the logo of the search engine Alphabet, i.e. Google.
In Drive you will store the necessary files, in the Documents area you will write any essay,
Tables like excel will be used to create lists, to do lists or just to count.
Google also has a Calendar, where we can plan tasks by setting up events,
and the section with Presentations will allow you to quickly prepare a presentation in a format that can be played in PowerPoint.
Apart from that, Google Translate will come in handy, and some people praise Google Keep, used for notes and reminders. The only drawback is that you can't access it without having a Gmail account, although I wouldn't call it a drawback as it's generally one of the better solutions on the current market, right next to Outlook from Microsoft.
Applications from Google are available both on Google Play and on the App Store.
Send me a scan, or the must have – PDF document scanner
This is actually a frequent command heard from the professor's lecture hall or microphone from Teams, in recent times.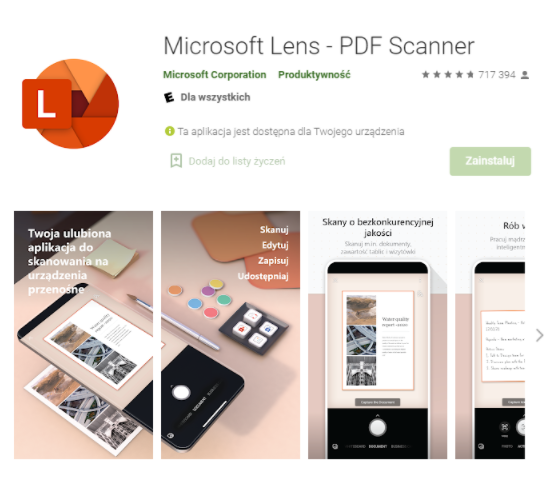 The once very problematic search for a scanner around town turns into taking a picture in a flash, and with a regular phone. The only thing the user will need is good light and a camera on the equipment, and the PDF processing will do itself, after marking the appropriate edges for the fragment of the future digital document.
Microsoft Lens Scanner is the most popular application of this type, where on Google Play it has collected a total of over 715 thousand reviews, for which the average number of stars is 4.8, which is really quite a lot, giving it a really strong position among often underdeveloped or spammy scanners!
You can download the application in Google Play and also in App Store.
How about going on ERASMUS+?
College isn't just about food, studying and friends, but also the opportunity to travel and learn about other cultures through a series of programs offered by universities, but perhaps the biggest is Erasmus+.
It involves an international or cultural exchange in which students adapt to a new community and learn what the world is like in other parts of it. However, in order to go on such a program, you need to be able to speak the foreign language spoken by the locals, so let's get started!
DUO LINGO
The application is very popular because of its effectiveness, which is also boasted on its website after the research.
The first survey involved 225 Duolingo users from the U.S. who completed the beginner's portion of the course. These people performed as well in the tests as students who have completed four semesters of language study at university.
The second survey involved 340 students from all over the world who had reached the halfway point of the intermediate level course. Here, learners have achieved similar results to students who have completed five semesters of language study at university.
You can download the application in Google Play, and also in the App Store.
RYANAIR
Now that we know the language and we have been admitted to the exchange, it is worth buying plane tickets. It is worth to do it in advance, and a good application, in which we can both book a flight, buy a ticket and check in is the one from Ryanair.
The app has over 200,000 reviews and an equal 4-star customer satisfaction rating, which is really pretty good.
You can download the app on Google Play and also on the App Store.
Events time!
There comes a point in most students' lives when they want to go out into the world and give themselves a whirl during a really good event. The hand of technology will once again be helpful in this. Applications Meetup and Tango are very appreciated in this regard.
Meetup: neighborhood events
"Find groups and events near you to meet new people and discover new hobbies. Use Meetup to get to know the city better, build a career path, find support, get out of your comfort zone or pursue a passion. Download the app and discover events organized by local groups or start your own group and become an organizer." – reads the description of the application on Google Play.
It has received a total of 133,752 reviews on Google store, giving it a 4.6 star rating, and has been reviewed by 310 people on the App Store, giving it a 4.8 star rating.
You can download the application in Google Play and also in App Store.
Tango – parties, concerts, festival programs
Tango provides instant access to the most interesting events in Warsaw, Poznan, Krakow, Katowice, Wroclaw, Lodz and Tricity.
There's also news on artists, music genres and field trips. The Steps function also allows you to check how much you have danced during the event.
"Delicious app, more of these please." – reads a comment from July 8, 2021.
You can download the app in Google Play and also in the App Store.
Poor student or resourceful? Savings plugins
Cashback plugins have been gaining popularity recently. The best known is the one from letyshops. How cashback works in this case? Lety Shops explains that instead of paying for ads, manufacturers pay the service for the traffic source they acquire. It is this money, as part of the profit margin, that the company shares with the customer, providing them with lower product prices.
The second plugin worthy of interest is alerabat. Here, in turn, the plugin searches for suitable opportunities in the background and when we make purchases online suggests us ready-made discount codes, so you can save really large amounts of money!
So as you can see, a student's life can be much easier when they are familiar with the goodness of mobile apps and facilities.
Obviously aware of the risks that technology entails, Mobile Trends editors are nonetheless delighted with its current possibilities.
The juxtaposition of the above can really improve the user experience of everyday life. Not only for students. After all, who hasn't had the need to scan or find a phone?
Google's suite of services is a very practical tool even for huge corporations. Referring to Tinder, although it may be an infantile observation, it really can make our time more pleasant, encouraging us to meet new people – a matter of attitude to people, applications and yourself.
Learning languages, flying, organizing time on public transport and even partying can be targeted inside a mobile service. Well the first will be the last – food rescue apps!
Isn't it a noble idea to reduce waste while keeping a buck in your pocket? Apps have a really wide field to improve our lives, and of course it all depends on their users.